Description
A Small Device for Big Movie Nights! 
Watch your movies and series from your sofa, with the same image and sound quality as in the cinema. The Mini LED 1080p HD Pocket Projector will transport you to a magical world where your home is the cinema.
Next generation American Bridgelux LED light
YG300 Pro uses the next generation American Bridgelux LED light Power consumption is 10 - 24 W Environmental protection & energy-saving, no harm to eyes Great for children's education and toys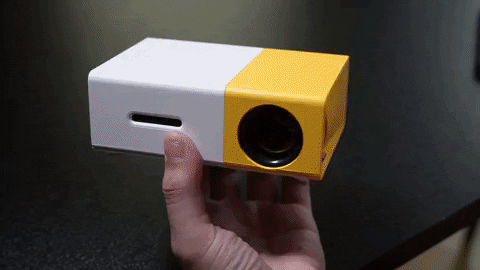 EASY TO USE ON MULTIPLE DEVICES
Its innovative system connects easily to all of your devices and is compact enough to fit perfectly in your bag. Take it anywhere you want and level up your movie nights !
This portable projector can even be powered from just your power bank. This is ideal for watching movies and playing games at home or even on an outdoor camping trip! 
Features:
PORTABLE: Can be taken anywhere you go!
VERSATILE: Can be connected to a wide variety of devices
CLEAR IMAGE: Supports high resolution of 1920 x 1080 (Full HD), providing the brightness of 400 - 600 lumens and a high contrast ratio of 800:1
Never Die Lamp: 30.000 hours of lamp life
Outdoor use: can be powered using a power bank. Perfect for camping, business meeting and travels
note:
This projector cannot be directly connected to the mobile phone by wire, and the wireless connection between the mobile phone and the projector can be realized by purchasing the same screen device.