Description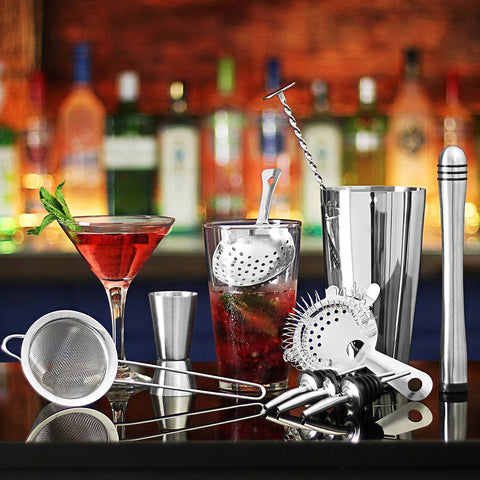 PREMIUM QUALITY PERFORMANCE -
 Heavy-duty and high-grade cocktail shaker kit. This entire cocktail shaker set is made of stainless steel alloy, SS304 & SS430, does not leech harmful chemicals nor affect your beverages' flavors.
Don't worry, it also easy to clean. It's all dishwasher compatible, so forget about wear and tear with these bar supplies.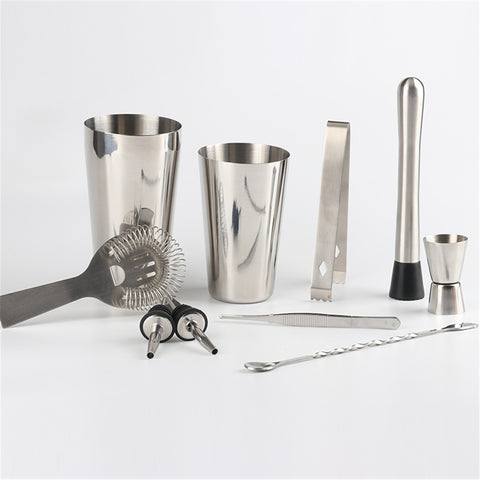 DECENT STAND FOR DISPLAY & STORAGE -
 Attracting your guest's attention has never been so easy. With this stylish wooden stand, you'll be able to upgrade your home decor. Not only that but this stand is also carefully designed to keep your barware organized and accessible at all times. No more clutter in your kitchen drawers and cabinets.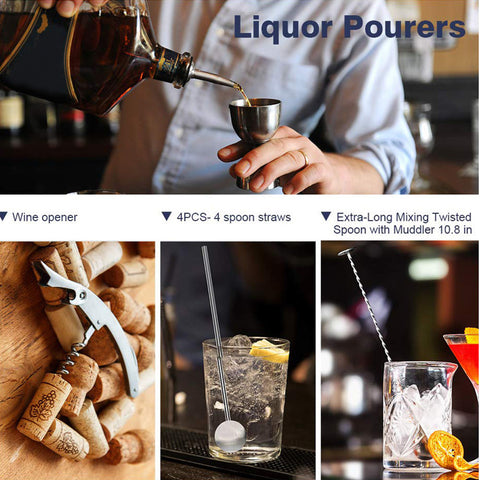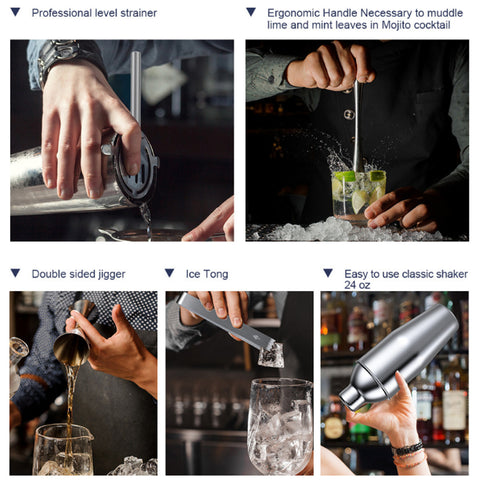 MIX DRINKS LIKE A PRO AT HOME - This cocktail shaker set will let you know how easy it is to make professional drinks at home. With all the essential bar accessories and leak-proof cocktail shaker, you won't have to worry about any mess, spillage, or getting your measurements wrong. 
COCKTAIL SHAKER DRINK ENJOY - Whether you're setting up a bar at home or at work, this bartender kit with pole set is a great tool to help you make a delicious blend of wines and give you a tasty cocktail.
This cocktail shaker set lets you experiment with vodka, scotch, cream, and other alcoholic and non-alcoholic drinks to the satisfaction of every party guest.
11 pieces of cocktail shaker tools provide all the essential bar accessories your need to make delicious cocktails. Includes a 25-ounce Cocktail Shaker, Ice tongs, a Mixing spoon, a Dual Capacity Jigger, a Strainer, a Muddler, a Corkscrew, two Liquor Pourers and a Bamboo Stand.